At this point, I've been living my best life.
The kids are happily back in school and it's still Summer. Oh yeah, and every food truck I've been meaning to try for the last year has made their way to our neighborhood.
If you read my first review of the food trucks, you'll see that I'm making habit of scheduling these on a weekly basis. Why stop a good thing?
Here are the next 5 food truck reviews.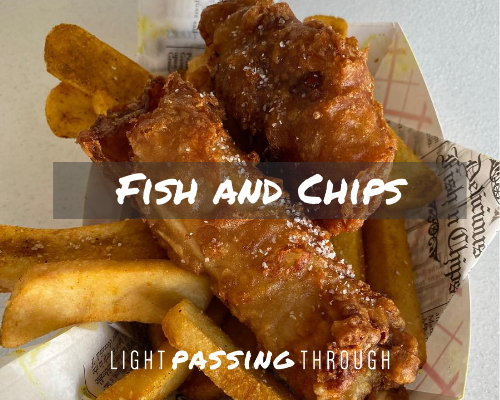 I've never had English pub food before- at least not at a place dedicated to making only English food. What I didn't realize for a long time is that there is an Indian influence in Great Britain so much of the food reflects that.  As with all these Omaha Food Trucks, I spent some time looking at the menu before their arrival and I think I had to Google about half of their items due to my unfamiliarity with the slang.
While this was the first time eating English pub food, it certainly won't be the last.
Things I Loved:
These people could sling out some British grub. If there were a fictitious award for fastest food truck, Dire Lion would surely win. The fries were a delicious thick cut sprinkled with curry seasoning. The chicken tenders and fish chips were also generously sized.
I topped my meal off with…another meal and ordered the bangers and mash as my finale. It was a delicious English sausage with onion gravy on a bed of mashed potatoes in a hoagie bun. I definitely could have done without the bun, but the flavor was phenomenal. If the English had Thanksgiving as a holiday, this would be like Thanksgiving on a bun.
Areas of Improvement:
The fried foods and the bangers and mash sandwich were delicious. The tikka masala could use a bit of work as it was lacking flavor- I also didn't care for the potatoes in it as I think potatoes in soups/stews are dead weight.
Price Range:
Plan to spend around $10-$15 per person.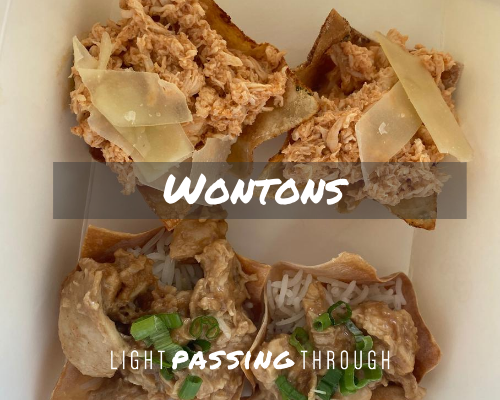 What a fun concept. A variety of foods and cuisines all atop a baked Wonton. This would be easy to try several different flavors without filling up on one thing. Not only that, the variety of flavors covered a broad range of cuisines keeping your palate on its toes.
Plus their pre-ordering worked flawlessly.
Things I Loved:
Strictly from a flavor standpoint, this may be my favorite food truck. I tried most of the flavors and did not think there was a bad one out there. Jon and his team whipped these up quickly (he said the concept was to be able to turn around orders quickly) and the amount of variety was incredible. Also, make sure to save room to get the Apple Pie ton!
Areas of Improvement:
While I thoroughly enjoyed the food, the value could be improved. The recommended amount is 4 Wontons per person. I would say it would take closer to 5-6 to fill an average adult which amounts to $15-$20+ per person. I've noticed they've been trying out some 50% off specials which would make it a pretty decent deal.
Price Range:
Plan on spending around $15-$20 per adult.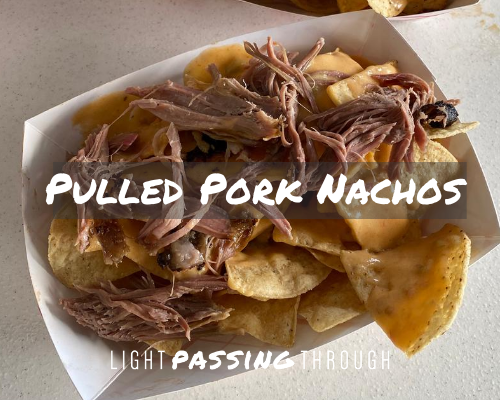 Muchachos out of Lincoln has a huge following, and for good reason. Their Mexican fusion and quirky social media have drawn fans from beyond Lincoln and they're in the process of opening a brick and mortar location. Take one look at their social media photos and reviews and you'll see why people flock to their truck.
Things I Loved:
Though the menu is lean, the few offerings were perfected. We got some of the nachos with queso cheese, queso mac and cheese topped with pulled pork, and chicken tacos. The sweet and spicy slaw and their two salsa were the perfect flavor complements to smoked meats. My husband said this was one of his favorite food trucks to date.
Areas of Improvement:
Not much! If I had to pick something, it would be some menu expansion…maybe some desserts?
Price Range:
Priced around $7 per entree, plan on spending $7-$14 per person.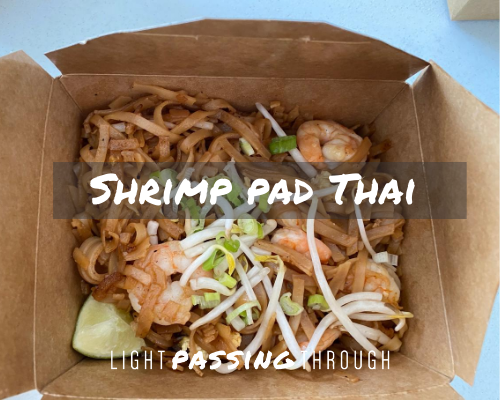 Thai food and I have a lot of lost time to make up for. Growing up eating almost entirely Vietnamese food, I was rarely exposed to the other neighboring cuisines. Once I tried Pad Thai as an adult, I was hooked. This is why it was a no brainer to add another Thai food truck to the lineup.
Things I Loved:
The ladies in this food truck are stealth and extremely friendly. We tried the crispy chicken which reminded me a sesame/orange chicken, both the shrimp and chicken pad thais, several appetizers, and some boba tea. The prices were extremely reasonable at about $8 and entree which was enough to share and the variety of food was awesome. Our kids enjoyed the crispy chicken and all the appetizers we got. Did I mention they're pretty quick?
Areas of Improvement:
The flavor of the Pad Thais weren't extremely pronounced and the dish could've used a bit more meat to round it out. Nonetheless, the other dishes were delicious and value was definitely there.
Price Range:
Budget around $8-$12/per person.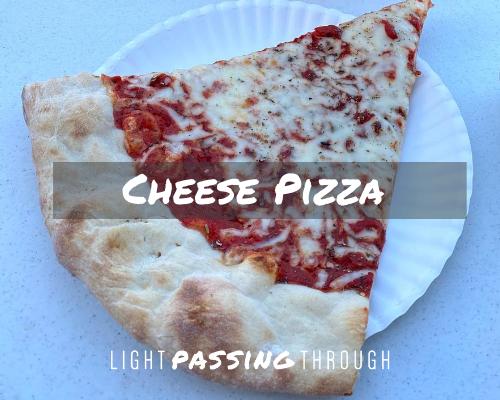 I love pizza. After a trip to NYC a few years ago with my husband, my love for NY Pizza grew exponentially. To think that we could get it here locally…well that's next level. We were finally able to align the dates with JRBP to get them to come to our neighborhood and I got my stretchy pants ready!
Things I Loved:
This stuff is the real deal. Perfect crust that's foldable, right amount of sauce, and great flavor combinations. It taste as authentic as pizza we had in Brooklyn.
I don't rave often about desserts, but by all means, save room for the fudge and cannoli. I've had cannolis in well-known Boston bakeries and they don't even compare. #trust
We enjoyed talking to Johnny himself and if you get a chance, ask him about his story.
Areas of Improvement:
This is totally a personal preference, but I think I would make the sauce a bit less sweet. Otherwise, this food truck is a winner.
Price Range:
Plan on around $10 if you're doing a slice and dessert.
Summary and Superlatives
After having several Food Trucks in Omaha, people have often asked me which ones are my favorites. Here's what I usually tell people:
Best Value– Sweet Rice Thai Food
Best Taste– Wonton Jon's, Muchachos, or Johnny Ricco's
Most Variety– La Cabanita
Crowd Pleaser– The Cheese Life or 402 BBQ
There are still more I've tried and haven't reviewed and more I have yet to try. What are your thoughts? Agree or disagree with my reviews?