Ya'll, I like to eat food. (Exhibit A, B, and C) And I especially like to eat food that comes to me, parked at the end of my driveway.
COVID hit early in March and we were all confined to our homes for the first 4 weeks while government officials took stock of what was unfolding and how best to address it. The weather kept us indoors which added to our misery and depression.
We all baked way too much bread, decluttered our homes with nowhere to donate our junk, and for many, learned the endless joy that comes with being thrust into homeschooling our children.
Then something happened. A ray of sunshine appeared and the weather showed promising signs of Spring in April. It occurred to me, "If we can't go to restaurants, we should have them come to us."
And like that I was on a mission to bring all the Omaha food trucks to Windgate Ranch. What better way to socialize while still social distancing?
Once we saw success with the first one (we sold them out) it made sense to keep the streak going and pretty soon I had food trucks lined up about weekly/biweekly. The food trucks are still a'comin and people have asked me which one has been my favorite and it only seems appropriate to review them.
Here's what I think of the first five Omaha Food Trucks we've had so far.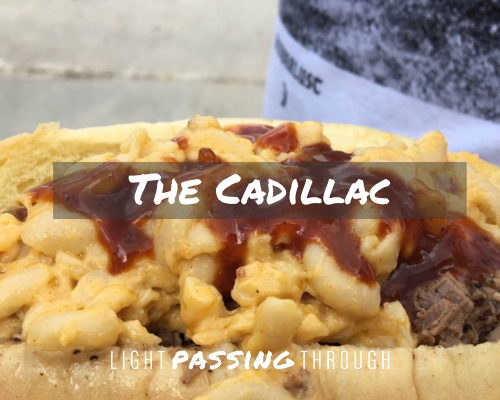 Of all the food trucks we've tried so far, 402 BBQ was the only one that I had previously tasted. This is why it was such an easy first pick because I knew exactly how delicious their food was.
And frankly, us Nebraska folks like our BBQ so it would be a crowd pleaser.
Things I Loved:
The brisket is absolutely phenomenal- tender, juicy, and flavorful. The pulled pork and burnt ends were also tasty. (note: if you don't like your burnt ends sauced, you'll need to request it that way. I personally do, but my husband did not)
I really enjoyed the mac and cheese. And the portions for the cost are quite generous considering the price of beef has increased and service was pretty quick!
Areas of Improvement:
Their home made barbecue sauces were either really good or really ok. The white sauce was probably the star of the show, however, I would love to see the regular barbecue sauce reinvented.
Price Range:
I would say plan around $10-$12/person if you're including sides.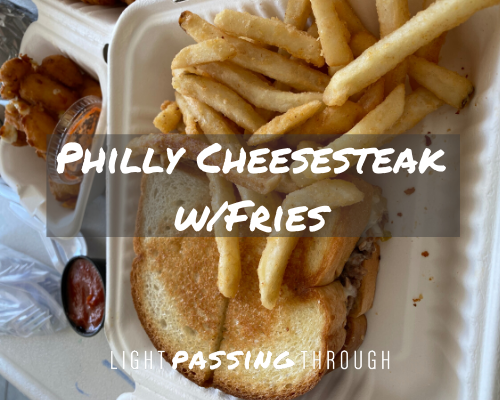 I had heard SO MUCH good things about this truck that I was pretty desperate to get them lined up. Our initial date got rained out but they were so gracious to reschedule for a Tuesday lunch.
The hype is real, ya'll. The Cheese Life is as good as it sounds.
Things I Loved:
I ordered the Philly Cheesesteak grilled cheese sandwich with jalapeños. Normally, I'm generally a wuss for spice but this provided just the right amount of kick for flavor without leaving my mouth helpless.
The fries and tots were plentiful and the cheese curds are a must when ordering.
Areas of Improvement:
I mean…this is probably not their fault, but very few people feel amazing after eating boatloads of cheese. Worth it? Worth it.
Price Range:
This is probably closer to $10/person range and fair value.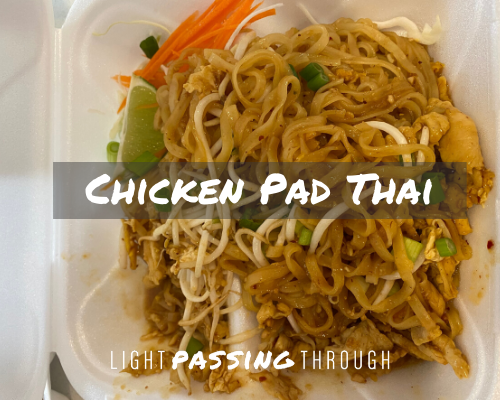 This, again, is one of those food trucks you hear so much good things about that you desperately stalk their social media account hoping they'll park at a location nearby.
After months of stalking, I finally took matters into my own hands and say "Yo, you need to park here" which means I actually said, "Can you please come to my neighborhood and park in my driveway?"
To my relief, they said "Yes."
Things I Loved:
I love Pad Thai all day errday and so I had to order that. We also tried the drunken noodles, fried rice, Kung Pao chicken, and several appetizers. The food was SO good and the veggies are as fresh as advertised. You have a false hope that you're eating healthy because the plate is so colorful, but we know better 😉
Now let's talk portion size. Each entree is enough for TWO regular meals and could easily be split among a brood of children. It's a lot of food and I happily enjoyed leftovers the next day.
Also, I'm not necessarily a huge fried rice person but I tell people that this may be some of the best fried rice I've EVER had.
Areas of Improvement:
This was a tough one because I liked this so much, but I would say the turnaround time wasn't quick simply due to the nature of Thai Food preparation. Worth the wait, though.
Price Range:
This is probably closer to $8/person range and entrees are easily shareable.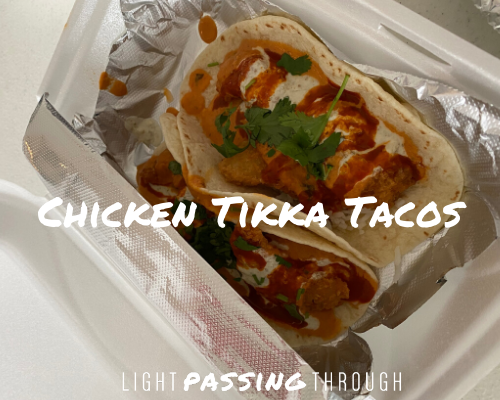 Indian food is one of those cuisines I've regretted not trying sooner in life. All is well, I get the opportunity now to make up for lost time.
I was hesitant to reach out to them because sometimes young families (ie picky kids) don't necessarily jump at the idea of Indian cuisine, however, it turns out that TONS of our neighbors really like Indian food.
Things I Loved:
Indian Fusion might be my new favorite fusion. Love tacos and tikka masala? Why not put them together! The flavor was rich and creamy with the right amount of spice. The chicken or shrimp version will definitely fulfill that tikka masala need in your life.
And by all means, get the garlic wings! So much garlicky flavor clung onto the chicken breading that even my pickiest eater raved about it. In fact, we went backed and ordered it again…twice.
Areas of Improvement:
The one dish I could not make myself enjoy were the sweet and spicy mango wings. The kick was too strong for me and I'm still undecided on the flavor combination. Additionally, I would love to see a way to improve on order turnover speed.
Lastly, the pricing was a bit steep for the portions so I would love to see a way for things to be grouped together for better value.
Price Range:
Given the portion sizes, you'll be looking at spending about $15-$20 per person.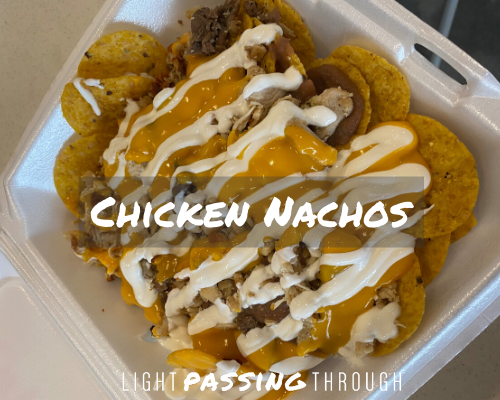 Tacos and food trucks just seem to go together. Like chili and cinnamon rolls. After the first 4 food trucks had come, several neighbors had requested for a taco truck.
I stumbled upon La Cabanita on a Food Truck Facebook page and they were so easy to work with. A few message exchanges later and we were well on our way to having a taco truck.
Things I Loved:
This was a family business run by a wife, husband, and their son which meant they totally had the family vibe going on. The turnaround for meals was really quick, torta was fantastic (Torta virgin right here), huge variety, and nachos that our kids were begging for.
What stood out was how friendly this couple was. When they were done for the night, they kept talking to my husband and I and offering all sorts of food from their menu.
Areas of Improvement:
With such a vast menu, it's hard to knock every item out of the park. The torta and nachos were solid. The tacos might need to be reinvented. All in all, a good experience.
Price Range:
I would plan for about $8-$12 per person.
Summary
Anyone else try these food trucks in Omaha? Do you agree or disagree with my reviews?
At the end of eating all these food trucks, I'll categorize my favorites and award superlatives such as Best Value, Best Taste, Most Kid Friendly, etc.
Stay tuned for the next 5 reviews.