Date night is looking a bit different these days for Tommy and I.
Initially, it involved home improvement projects, organization, and cooking lots of pizza. But now we're now finding creative ways to connect with each other and our friends while still playing it safe.
Gone are the days of traditional date nights such as those we did here, here, and here. But it turns out there are still some incredibly fun dates even while adhering to social distancing guidelines.
So here are 5 Socially Distant Date Night Ideas that we recently got to experience.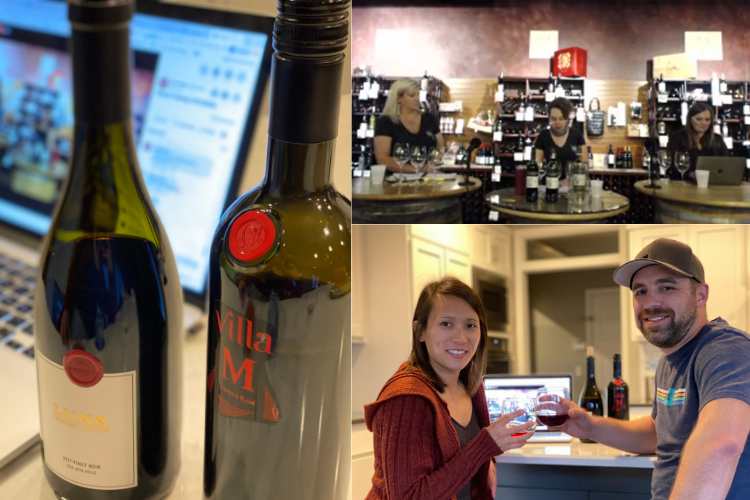 I'll be the first to admit that I'm a highly inexperienced wine drinker.  When I had my first job at 19 as a server at Bianco (RIP), I distinctly remember breaking the cork on a $90 bottle of wine as the couple watched in horror.
It's still a mystery to me as to why I didn't get fired.
Which is why it was a no brainer to look into wine tasting. Vino Mas offers Friday night tastings which include thoughtfully selected wines from various regions. You pop in at any point during the week before Friday to pick up your wines and then tune in their Facebook live on Friday.
The owner, Deanna, is extremely versed in guiding you towards a wine you would enjoy. The moment the words "I like Moscato.." left my lips, she immediately pivoted from the original selection to choose a wine that she assured "I would enjoy."
We were given two bottles- one a Pinot Noir and a Sweet red.
Having never attended a virtual wine tasting (or an in-person one for that matter), Tommy and I didn't know what to expect. We logged onto their Facebook live and saw Deanna and two colleagues as they prepared to present the wines.
Make no mistake this wasn't a "view-only" event. There was an in store audience as well as those of us online. It was highly interactive even for those of us who participated virtually as they made deliberate stops during the presentation to engage the Facebook audience.
It became evident that some of the participants knew a great deal about wine, while others (like us) knew nothing. There was nothing pretentious about the presentation and anyone with interest in increasing their wine knowledge will feel right at home.
Note: Even if you can't attend the live virtual tasting, you can always tune in when it's most covenient. And just a word to the wise…the California fires of this year destroyed an abundant amount of would-be 2020 wines so I would stock up if I were you.
Better yet, just join their wine club so you'll always have an in.
What Type of Couple Would Enjoy This:
Judging from listening to the audience in the store and those online, it really caters to anyone who is completely unfamiliar to wine up to the wine connoisseurs. Combine the wine with a beautiful charcuterie board from Berry and Brie Charcuterie and you'll be set for the perfect Friday night in.
Cost
Wine club starts at $28/month plus tax and up to $55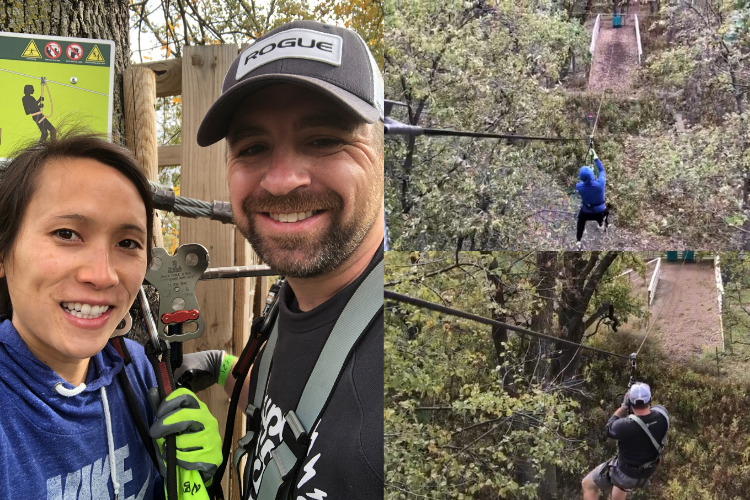 One of the great things our family rediscovered early on in the pandemic was our love for nature. A super affordable annual park pass for $31/year will get you access to every Nebraska State Park.
Among them was Mahoney which recently saw the addition of the GoApe! Tree Rope Course.
Enter through the park gates and follow the road about a mile away to get to the entrance of the Tree Course check-in. We met with a small group including an instructor that briefed us on safety, rules, and harness/clip function.
A small amount of hand coordination and you'll be set to go.
For those of you that may have previously done a similar Tree Course at Fontenelle Forest, I assure you that the obstacles are not the same. These were different and also equally challenging. What I absolutely loved about each of the 6 courses at GoApe! was that they all ended in an epic zipline drop below as seen here.
The safety of the actual harness was great, but even more so, social distancing was easily attained in an outdoor setting. Everyone was wearing masks during passing interactions, but often, you could do without one because the course was spaced out.
If you haven't done a tree course and are physically able, I suggest you book now for when they open up again in April 2021. In the meantime, you should totally purchase a gift card while you wait.
Bonus: Try out the "Monkey Drop" which was 10 feet of free falling off a 50 foot platform. It was the perfect amount of thrill for us.
What Type of Couple Would Enjoy This:
If you're an outdoorsy couple and/or like physically challenging obstacles then plan a visit to GoApe! Even for someone who doesn't care for heights, I felt comfortable and safe the entire time. The harnesses are secure and there are enough staffers to guide you if you ever feel stuck. 10 out of 10 would do it again!
Cost
It's $49.95 for each person 19+ (and less so for kids) for about 1.5-2.5 hours of climbing.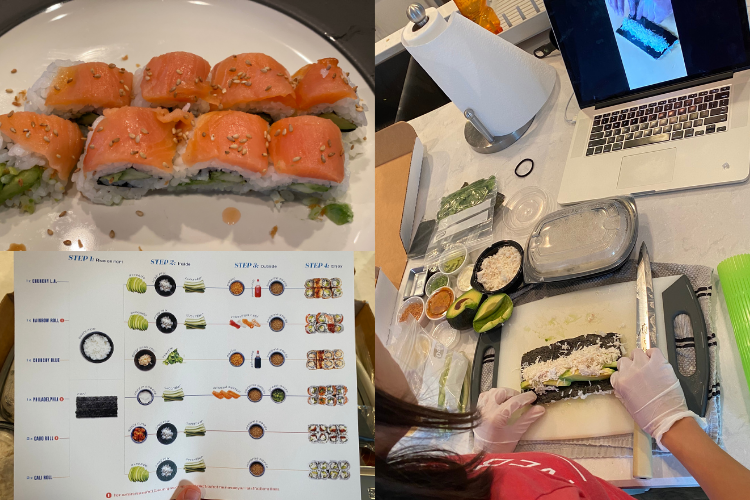 I'm a big fan of the Flagship Restaurant Group in Omaha because the things they do, they do them well.
When I saw the email that they were introducing a build-your-own-sushi box, it was a no brainer to try this out. You simply call one of their Nebraska locations a day ahead of time and grab your sushi box the following day.
The packaging was thoughtful and unboxing it was reminiscent of Apple products. The instructions were well-designed and easy to follow. And an additional online tutorial by their head chef demonstrating the techniques made it unmistakably clear.
There was a precise amount of ingredients for the 8 maki rolls and a few extras were included for some margins of error.
This was a full on family affair. The kids watched and helped hand us ingredients as we assembled, rolled, and devoured. Rinse and repeat. I found my groove by the 4th roll and the kids even got a chance to try rolling out the last few ones themselves.
One of my daughters even suggested I should aspire to be a "sushi chef". Bless her heart.
Undoubtedly this was one of the most fun dinners we've had as a family.
(If you recall a long time ago we did a "family date night" at Approach Rock Gym where the kids were partially involved. This is another one of those great "family date nights" to add to the list.)
What Type of Couple Would Enjoy This:
This is perfect for the couple who has ever wanted to try making sushi, but has been unsure about messing up. The build-your-own-sushi box is foolproof and incredibly easy to follow. Plus, you're covering dinner and a date night in one bundle.
Cost
It's $87 for the sushi kit plus rolling mat. An extra $30 gets you a super sharp sushi knife (which is well worth it!)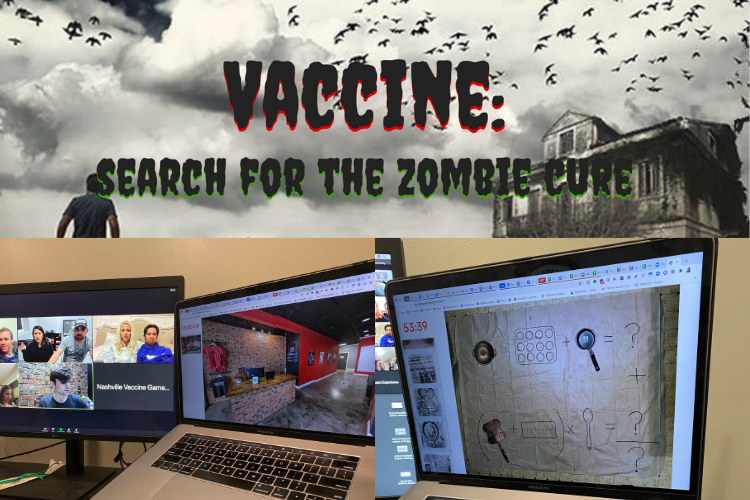 What the heck is a virtual escape room?
I'm glad you asked because I thought the same thing when I was researching for this post.
How does it work? Would it be fun? Would it be lame?
You know I love me a good escape room, but there ain't no social distancing being locked in a room with people for an hour. What's a girl to do?
Enter Escape Experience out of Chattanooga, TN. They were among the first, if not the first, escape room to introduce a "virtual escape room". So here's what it involves.
We first chose our room and appropriately picked "Vaccine: Search for the Cure". Then we scheduled our time and were assigned a game host who was an onsite person acting as our eyes, hands, and feet.
Here's the fun part. We got to invite other couple friends to join us from anywhere in the world.  They just all happened to live in Texas, ya'll.
All 4 couples logged onto the given link roughly 15 minutes before the start of the room at 9 PM. Our game host, John, briefed us on how the room would work and gave us a virtual tour of their lobby before we got started. Then he played the intro video while, I assume, he suited up with a GoPro type of outfit.
When the countdown clock started, he immediately began moving around to show us the room. If we asked him to open drawers, he opened them. If we asked him to look under tables, he crawled down.
As we uncovered clues, there was a separate tool/link that displayed the clues so we could have a closer look and zoom in and out of the clues. This feature was not anticipated and very well done.
The room experience far exceeded our expectations and in ways, was better than a traditional escape room because:
We could do it at any time because they literally host rooms for global participants at all hours of the day
Didn't have to hire a sitter because we could log on after kids were tucked in
Could do it with our friends who live anywhere
Ideal for people who are

claustrophobic

(who we found out was one of our friends)
We're already looking forward to booking our next room. By the way, use "CONNECT" to save 20% off your room.
And in case you're wondering, we did escape with 12 minutes to spare. Phew!
What Type of Couple Would Enjoy This:
This is a fantastic option for a group date and a good excuse to connect with friends far away. We had friends who had done escape rooms before to complete newbies who said they would definitely do this again. Plus, it's refreshing to have a video call that you actually look forward to doing.
Cost
The cost of $32/person with a minimum of 4 per room.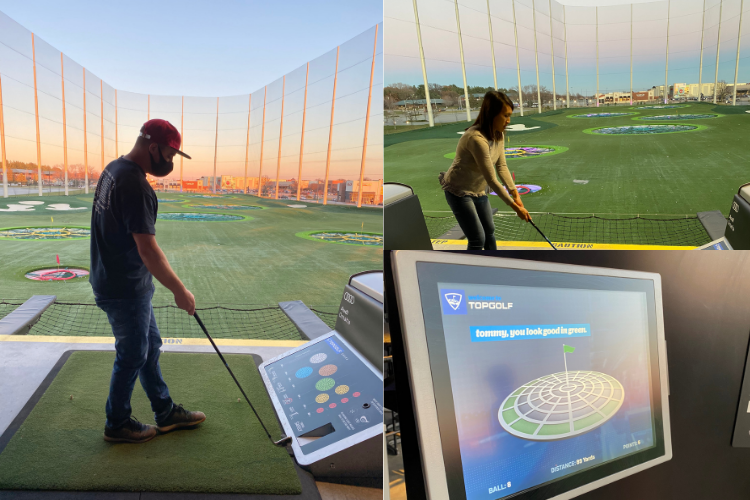 TopGolf was socially distant friendly before it became cool (and required) to do so.
Their setup, by design, meets most COVID guidelines that we know like the back of our hand. Each of the 72 bays are already 11 feet apart from tee to tee and they recently added protective vinyl covers between each bay.
At your bay, you hit out into the open driving range where there's plenty of fresh outdoor air.
But there's a problem with outdoor air…in the Winter…in Nebraska.
I thought the same thing. Should I bring my heavy coat and if so, how is that even conducive for swinging a golf club?
Their amazing outdoor heaters is the answer. I went from thinking it would be too-cold-to-enjoy to actually turning off the heaters because we got so warm. For context, it was around 35-40 degrees on the evening we went.
I had another problem. Putt putt is the most golf I've ever done and my skills are debatable there.
What most people don't realize is that each Topgolf has an on-site golf pro. We were introduced to Jeff Smith and learned that he walks around and give pointers to people who want the help. You can also hire him for individual private lessons for yourself or a small group of people.
As for the actual golfing, I loved how casual everything was. The clubs were provided, no special golf attire required, balls conveniently rolled out of the machine, and my favorite: the ability to order delicious food and drinks during play.
Get the nachos. #trust
Each bay has an assigned game host who gives you a rundown of TopGolf and also doubles as your server. It was easy to get the hang of everything and start playing immediately. There was never any pressure to do well and you could have fun even with a negative score (I would know).
One thing is certain. Tommy and I will have to return several more times to polish up our golf skills.
Pro-Tip: Drop in on a Tuesday and get half off game play.
What Type of Couple Would Enjoy This:
While it would benefit you to have some golf skills, this was still fun for us non-golfers. It's a great option to get out of the house while still maintaining social distance. Plus, it's a comprehensive date night since you can do dinner and game play in one convenient swing.
Cost
There's a membership cost of $5/person initially and then the cost starts at $25/hour per bay or $12.50/hour per bay on Tuesdays- see here for more details.
Summary
The ingenuinity of businesses during a pandemic never ceases to amaze me. I love how some of these ideas were non-existent a year ago, but now are paving the way in their respective industries.
With the wide array of views on COVID-19, there's something for everyone.
Want to win these date nights? I'm giving away ONE OF EACH.  Follow the Light Passing Through Facebook page as I'll be announcing the giveaways soon.